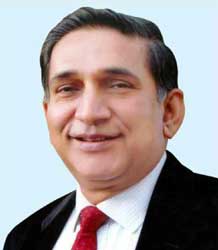 Dr. Anoop Kumar
M.S., M.Ch. (Urology)
President
D.A.V. College Managing Committee
Hoshiarpur
Communiqué
Fifty four years of herculean efforts have gone into getting, the D.AV. College of Education at the helm. Recognized by National Council for Teacher Education, NRC, New Delhi, it is the epitome of Teacher Education Programme with the largest student strength in the entire state of Punjab. To lead this institution is my proud privilege.
A phenomenal graduation rate remains the barometer of our academic rigor, delivered and supported by stellar, caring faculty, staff, Principal and a diligent governing body-the Management. The caliber of an educational institution is evaluated by the character of its products. The institution stands tall in this regard; the list of its alumni, providing distinguished service to the country and society is remarkable.
Ours is a community centered on students' success. A student is the most important person on our campus. We create opportunities and inspire students to achieve their goals. In addition to their academic pursuits, they are provided with enriched living experience which broadens their horizon and challenges assumptions.
The public mission of D.AV culture seeps in, and changes them, in ways that help them make their way in the world, and in turn make that world a better place. My message to the students is, "to make the most of each class, each friendship, and each opportunity encountered - we desire them to flourish in every aspect of life."
With the pride of Golden Jubilee celebrations of this institute established in 1966 and its state of the art infrastructure and facilities, | call upon the students and faculty to continue striving for excellence and use the acquired knowledge about Perspectives in Education, Pedagogy and Professional Skills-Macro & Micro, forthe noble task of nation-building.
May the students of this esteemed institution fly its banner sky high and attain the pinnacle of success and glory.