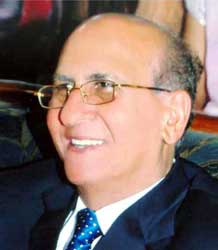 Sh. D.L. Anand
Retd. Principal
Secretary
D.A.V. College Managing Committee
Hoshiarpur
Secretary's Message
It gives me immense exhilaration to share one mile stone of a great journey. D.AV. College of Education, Hoshiarpur is a leading Institute of Teacher Education not even in Punjab but also in North India. The architectural grandeur of its building and layout of its campus clearly demonstrate the will of the Management. Over the fifty four years of excellence, the college top-notched with a highest intake of 300 seats in B.Ed. Course along with 50 seats in M.Ed. course and sustained remarkable standards in Teacher Education. The College has always strived to diversify and reshape the path of education according to our ever changing world. Our commitment to education today recognizes the necessity for thinking and acting from insular to universal. We believe in serving society through quality education that undeniably capable to enlighten the narrow minds into liberal ones, to transform the retrogatory ideas into futurist ones, to metamorphose the futile actions into fruitful ones and enables to generate quality human resources.
The College nurtures the teacher trainees within the advanced teaching-learning atmosphere well equipped with humanitarian values and professional ethics. At this unique institution, we also hone the academic skills, fine-tune the aesthetic senses and work towards building a holistic culture that values the individuality of each teacher trainee and helping them to realize their innate potential. The College also combines scientific, managerial and operational skills and resources to rejuvenate the skills of teacher trainees by experienced and professionally competent teacher educators. The College has its roots and heart firmly laid in cultural values nurtured by Indian civilization while striving towards the accomplishment of global excellence in the field of Teacher Education. Welcome and be the part of this journey.
Wish you all a bright future and may you become a torch bearer for the Nation!